Washington, DC – December 8, 2014. The Local Organizing Committee of the OCEANS '15 MTS/IEEE Washington, DC conference and exhibition is pleased to announce that Rep. Sam Farr, co-chair of the House Oceans Caucus (HOC), and Dr. Rick Spinrad, National Oceanic and Atmospheric Administration (NOAA) Chief Scientist, will serve as Honorary Co-chairs. "We're extremely fortunate that two such notable figures in the ocean community have agreed to provide their knowledge and experience in marine technology and policy to help us plan an outstanding program," remarked General Co-chairs Rusty Mirick and Jim Barbera.
The annual OCEANS North America conference and exhibition, jointly sponsored by the Marine Technology Society (MTS) and the IEEE Oceanic Engineering Society (OES), rotates among locations with significant maritime communities. October 19-22, 2015, the event will once again be located in the Washington, DC area at the Gaylord Convention Center on National Harbor. It expects to attract over 3,000 attendees and will feature over 500 technical presentations and workshops. The exhibition will showcase the latest equipment, products and services in up to 200 commercial and informational exhibits.
"Sea Change: Dive into Opportunity," was selected as the conference theme to focus on the opportunities related to economic challenges and oceanic changes and the ability to mitigate and adapt to these changes with the application of the best research, technological developments and policy decisions.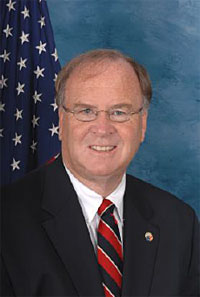 Rep. Farr said, "The OCEANS conference and the House Oceans Caucus share common goals of building awareness, exchanging information and ideas, and exploring the important issues related to our oceans. The conference theme of how we address the impacts of oceanic and coastal change is integral to our policy discussions in Congress. I encourage all members of the House and Senate Oceans Caucuses and their staff to attend this informative conference. Nowhere else can we gain greater exposure to the latest research and observe first-hand the technology needed to inform the policy discussions concerning our greatest natural resource."
Congressman Farr has represented California's Central Coast for almost 22 years and is its longest serving member in Congress. His district includes the Monterey Bay National Marine Sanctuary and the majestic Big Sur coastline. Known for his passion for 2 ocean issues, he has worked tirelessly to bolster the nation's land and ocean resources. As the founder of the bipartisan House Oceans Caucus, Rep. Farr continuously works to educate Congressional Members about the issues facing our world's oceans. Congressman Farr has fought for funding and development of ocean programs and has introduced countless pieces of ocean legislation, including the Oceans Conservation, Education, and National Strategy for the 21st Century Act, also known as "Oceans- 21." Many of this bill's provisions were included in President Obama's Executive Order that established the first National Ocean Policy.
"I'm looking forward to working with the Technical Program Committee to shape a program that will bring together experts in the disciplines that address some of our most important coastal and ocean challenges," said Dr. Spinrad. "NOAA's mission includes conducting research to address critical issues ranging from increasing frequency of severe weather events to the effects of climate change on our communities and shifts in marine ecosystems that may be under stress. The OCEANS '15 conference next October will be a great way to add to our knowledge base on these issues."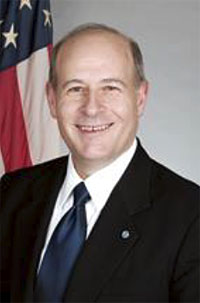 Dr. Spinrad is an internationally recognized scientist, with degrees in earth and planetary sciences and oceanography, and an executive with more than 30 years of experience in academia, the non-profit sector and government. Before being named as NOAA's Chief Scientist in May 2014, he served as vice president for research at Oregon State University in Corvallis, Oregon, and from 2005 until 2010, was the head of NOAA's Office of Oceanic and Atmospheric Research and the head of the National Ocean Service. From 1994 to 1999, Dr. Spinrad served as executive director for research and education at the Consortium for Oceanographic Research and Education, Inc. in Washington, DC. When tapped for his new role at NOAA, Dr. Spinrad was serving as the Presidentelect of the Marine Technology Society.
Information about the sponsoring societies can be found at: Marine Technology Society (www.mtsociety.org) and IEEE Oceanic Engineering Society (www.oceanicengineering.org). MTS is an international non-profit professional society of ocean engineers, technologists, policy-makers, and educators with the mission to promote awareness, understanding, advancement and application of marine technology. IEEE/OES is an international non-profit professional society that focuses on all aspects of science, engineering, and technology that address research, development, and operations pertaining to all bodies of water.